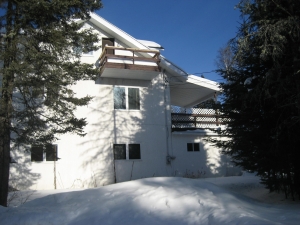 Bonne Année/ Happy and Prosperous New Year/
Feliz Año Nuevo/ La Mulţi Ani 2011!
Dear Friends,
Happy 2011! We wish you a peaceful, fulfilling, and creative new year. And we hope 2011 finds more reasons for us to connect with you through events at the International Writers' and Artists' Residency— Val David, Quebec, Canada.
If this is the month of resolutions, there are some you might want to check off right away: While there is an all year, open call, for regular participation in the Residence, the next and first, application deadline of 2011 is February 15th for bursary residencies during the months of April and May 2011.
Go to our application form at www.flaviacosma.com/Val_David.html to get started today. There is no cost to apply.
To learn about IWAR, Val David before applying— or just to become more familiar with the Residence — you may want to read our information kit at www.flaviacosma.com/Val_David.html.
Our III International Writers' and Artists' Festival Palabra en el mundo will take place at the Residence on 21 and 22 May 2011. For more information and to participate please contact

Staying in touch with you is important to us, and to that end, we'd like to remind you of a new way you can keep abreast of Residence Val David happenings: Facebook (Flavia Cosma).
Wishing you all the best as this New Year officially begins!
Flavia Cosma, Director IWAR